SCADA CONFIGURATION :
At PYRAMID we offer Supervisory Control and Data Acquisition (SCADA) / Human Machine Interface (HMI) systems and solutions. EXPERTISE IN We undertake SCADA configuration & customization projects.
SCADA & HMI SERVICES :
| | |
| --- | --- |
| | Development of SCADA/HMI Graphics. |
| | Smart Symbols/ Plug & Play Components Design. |
| | |
| | Migration to new platforms or new SCADA including Reverse Engineering. |
| | Alarm/Event management and Diagnostics. |
| | Historians & Trend Management. |
| | |
| | Testing & Validation (21 CFR Compliance). |
| | |
| | |
| | Networking solutions and Security Configuration. |
| | SCADA To Database/ERP and SCADA-to-SCADA connectivity. |
| | Third Party H/W & S/W connectivity. |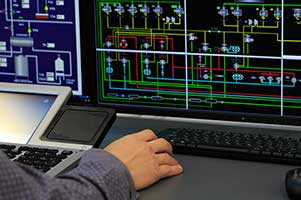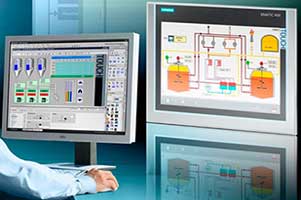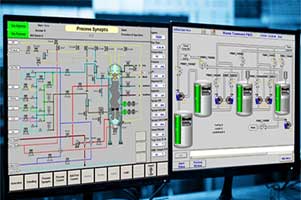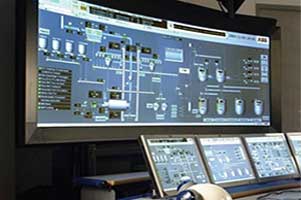 PLC ENGINEERING PROGRAMMING :
PYRAMID offers PLC programming & software development as per the process requirements of our customers. Our engineers & associates are familiar with programming of most of the leading PLCs e.g. Siemens, Allen Bradley, Schneider, Fanuc, ABB, Omron, etc. for different industry segments e.g. Chemical Processing, Refineries, Textlies, Plastic, Steel, Electrical Power Generation, HVAC, Pharmaceutical, Water Treatment etc.
We understand process requirements thoroughly and then write the PLC programs precisely as per requirements of the client.
We have so far implemented a variety of projects using SCADA systems of different suppliers such as WinCC, Wonderware, Intellution, RS View, Indusoft etc. Our engineers are familiar with software tools & Microsoft technologies such as C++, SQL Server, VBA, DDE, OPC, ODBC, Web servers etc. Because of this we can successfully implement SCADA projects requiring use of advanced features of SCADA.
We are familiar with many widely used plant level data networks such as Controlnet, Devicenet, Ethernet/IP, DH+, DH485, RI/O, Modbus, Profibus, fieldbus etc. This helps us in providing solutions where SCADA is required to be networked with multiple brand PLCs & Third party devices.
PYRAMID provide implementation services for Manufacturing Enterprise olutions ( MES ) Systems.
We provide services based on products of various leading MES product suppliers.
MES SOLUTION :
| | |
| --- | --- |
| | |
| | Real time inventory management using WIP tracking system. |
| | |
| | On line quality checking & analysis systems. |
| | Plant level real time data historian. |
| | Laboratory information management systems. |
| | Drawing & document management system. |
ERP CONNECTIVITY :
PYRAMID is familiar with all the three aspects of real time data handling viz. data acquisition, real time data processing & data distribution & display.
Our expertise covers real time data handling from the level of sensors up to connecting real time data to ERP systems. We understand importance of plant floor level real time data in enterprise level solutions.
We provide complete solution for achieving this data connectivity including following.
• Identification of data points required for enterprise level solution.
• Sensing of the required data.
• Acquiring data on plant floor level controllers from field sensors.
• Setting up plant level real time data server by networking different controllers & devices.
• Linking of acquired plant data with ERP.
We also provide following low cost means for distribution of acquired data throughout the enterprise.
• Data viewing throughout enterprise using web server technology.
• Data distribution using VB screens as a front end.
• Data distribution using Excel as front end.